Arlington Heights Stair Lifts and Ramps   630-892-7267
StairLiftNOW has the answer!
We have new stair lifts, used stair lift, rental stair lift, curved stair lift and more are available at low prices. StairLiftNOW is the stair lift and wheelchair ramp solution that will make your home accessible.
StairLiftNOW and it's sister company RampNOW have served and satisfied thousands of clients that have purchased or rented stair lifts since 2004
We can improve the accessibility of your home at a much lower price than moving or remodeling. Your entire home will be accessible while keeping you and your family safe and secure.
We have no commission based sales staff.  All work is done by us. From our warehouse and office based out of Aurora, we are able
to provide service to Arlington Heights daily.
Save Hundreds With Our 15 Minute Quote
Like a famous insurance company, we can give you a free and accurate stair lift price quote in 15 minutes or less. One of the secrets behind the success of StairLift NOW is the fact that our quotes are done in 15 minutes or less. Call to arrange your free quote 630-892-7267
The Rental Option
If you only need a stair lift for a few months, why buy? We have attractive rental options. We only rent the best stair lifts. Our rental machines look and act like new. Explore your savings by calling us at 630-892-7267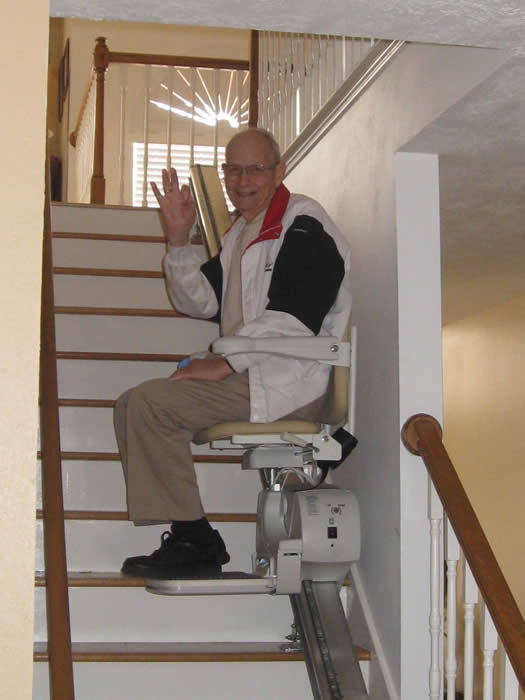 We Are Local – We Service What We Sell
Our company is based locally, not out of state. Our factory trained installers are all employees, licensed, and insured. When a StairLiftNOW installation is complete, you receive a complete demonstration and access to our 7 day a week service line.
Certified Used Stair Lifts in Arlingtom Heights
We are the only dealer that has certified used stair lifts in Arlington Heights, IL. Our used stair lift Sterling 950 units have been fully inspected, cleaned and serviced. These lifts come at a low price that includes installtion and warranty.
Service is our first priority
If your stair lift dealer is not there for you on weekends and holidays what do you do in the event of a break down?
We have the knowledge, the experience and the dedication to take care of your needs on your terms. Our service department phones are open 7 days a week, 365 days a year. 8AM – 10PM
We prioritize service calls
that may involve a safety issue or any issues that
impacts a customer not being able to use the lift.

HelpNOW – Personal Emergency Response
If you are concerned for your own well-being, or that of a family member or close friend living alone – HelpNOW, our Personal Emergency Response System will help put your mind at ease!
With just the press of a button, a trained Emergency Response operator will respond  to your needs. No tools required, a working wall outlet and phone line is all that is needed – set-up is that easy! Monitoring begins as soon as it is activated.
Comments From Arlington Heights Clients
I only intended to use the stair lift for a few months, while I recoverd from my fall. Realizing that I was much safer on the steps, I decided to convert my rental contract and purchase the lift. I'm happy that you allowed me to do that,
Rob S   Arlington Heights, IL
*********************************************
I really like the design of your stair lift track. Two other companies (Acorn and Bruno) told me I had to have an additional piece of track called a hinge. Your track didin't stick out as far as theirs so I saved hundreds. Thank you.
Raymond S    Arlington Heights, IL
********************************************
The stair lifts we bought from you worked wonderfully. My parents were able to stay in their home for an extra five years. I'm glad that your company bought back the stair lifts so that someone else was able to use them.
Susan O.    Arlington Heights, IL
****************************************
I rented a stairlift from your company. Your installers did a fantastic job. I'll be sending referrals your way.
John S    Arlington Heights, IL
***********************************
I'm so glad that you have your stair lift rental service. The Sterling stair lift folds up so small we hardly even noticed it on the stairs. It looked like new.
Robert W    Arlington Heights, IL
*************************************
When you suggested that we get two Sterling 950 instead of a curved stair lift, I was skeptical. Your trade in plan was what convinced me to try your idea. You saved me thousands of dollars!
Howard S      Arlington Heights, IL
******************************************************************************
See comments from hundreds of satisfied stair lift and wheelchair ramp clients at our sister site www.RampNOW.com
We rent and sell Wheelchair Ramps in Arlington Heights too! Call 630-892-7267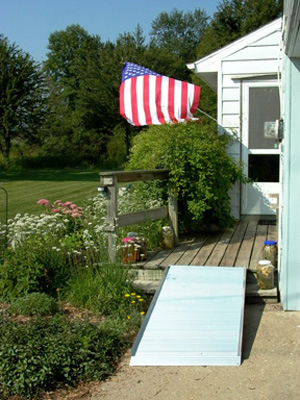 Stairlift Prices
StairLiftNOW believes that shoppers want a fair price and great service. People often ask "How much does a stair lift cost?"
We offer a full range of new and used stairlifts.
New straight stairlift prices range from $1800 to $4500. Used stairlift pricing will depend on the age and condition of the handicap stairway lift.
There are many factors that determine pricing. Weight capacity, location, indoor, outdoor, power source, stair type, angle of the stairs, landing sizes, needs of the user and more are all important factors.
We offer a free staircase lift price quote in 15 minutes or less. We can measure your stairway and calculate several stair lift price options on the spot. Call us at 630-892-7267.
Medicare Coverage
Many people ask "Does Medicare cover the cost of a stairlift?" "Do they cover the cost of stairlift rental?" Unfortunately, Medicare does not cover the cost of home access stairway lifts. They never have.
Private insurance will occasionally cover the cost of a stair lift. Please call us for more information. 630-892-7267
Stair Lifts and Wheelchair Ramps – Sales Rental and Service in Arlington Heights IL
Wheelchair Lifts in Arlington Heights | Handicapped Equipment in Arlington Heights | Stair lift in Arlington Heights | Scooter Lifts in Arlington Heights | Stair Lifts in Arlington Heights | Stairway Lifts in Arlington Heights | Stair Lift rental in Arlington Heights | Stairlift Rental in Arlington Heights | Stairway Lift in Arlington Heights | Mobility Equipment Dealer in Arlington Heights | Used Stair Lift in Arlington Heights | Used Stairlifts in Arlington Heights | Curved Stairlift in Arlington Heights | Curved stair lift in Arlington Heights | Outdoor Stair Lift in Arlington Heights | Outdoor Stairlift in Arlington Heights