StairLiftNOW offers a safe and reliable way of overcoming the problem of getting up and down stairs.
If you have difficulty getting up and down stairs you are not alone. Every year thousands of people look for a solution to the problems posed by the staircase in their home.
The decision to install a stairlift is sometimes a difficult one to take but when compared with the alternative of moving house, or living on one level of their house, many people have found a stairlift to be their much preferred option.
Rent or Buy 630-892-7267
The idea of selecting a stairlift and having it fitted may be daunting at first; however stairlifts can usually be fitted in a couple of hours.
If you would like more information about Sterling Stair Lifts, including the ultra modern Handicare Simplicity Sterling 950, please fill out the form on the right. We will make choosing the stairlift that is right for your needs both now and in the future much easier. Many of our clients choose to rent stair liftOur rent to own program is very popular. We also sell used stair lifts.
Save Hundreds With Our 15 Minute Quote
Like a famous insurance company, we can give you a free and accurate stair lift price quote in 15 minutes or less. One of the secrets behind the success of StairLift NOW is the fact that our quotes are done in 15 minutes or less. Call to arrange your free quote 630-892-7267
Call 630-892-7267 – 365 days a year
For more information and to read comments from our clients please see our client testimonials page and visit sister site www.RampNOW.com
Handicare Makes It Great
The Sterling 950 folds up to only 11″ inches, making it the thinnest stairlift on the market. The continuous charge system gives the 950 a definite advantage over the Acorn Superglide and other DC stairlifts. On most stairlifts, if you don't park the lift at the correct charging point, you might find the batteries have gone dead, leaving you stuck. With the 950, you do not have to park it on a narrow strip, it will recharge no matter where you are parked.
The narrow track, only 5″, is one of the thinnest tracks on the market. It's low profile means the track does not protrude into your living area. Some lifts, like the Acorn and the Bruno, create tripping hazards unless you purchase an expensive track upgrade.
The weight capacity of 309 pounds is class leading. 97% of stair lift users are under this threshold. The 950 mounts directly to the step, not your walls. A full 16′ run of track only requires three mounting brackets.
StairLiftNOW makes the Sterling 950 affordable. We are the #1 source of Handicare stair lifts in the Midwest. Our policies of having low no-nonsense prices, fast quotes, reasonable stairlift rental rates, a 365 day a year emergency hotline have established us as a premiere handicap access dealer.
Service Service Service
We back up our great prices with fantastic service. Please take some time to read a few of the comments from our clients. If you have a problem, we are able to replace or repair your stair lift immediately, even under warranty. Most companies have to send the defective part in to the manufacturer to determine if a problem is warranty related. StairLift NOW is able to do "on the spot" repairs.
We have all the 950 parts in inventory and can guarantee a speedy repair if it ever stops working.
Safe and Reliable DC Power
All Sterling Stair lifts are battery operated so they will continue to work in the event of a power failure. The battery receives a continuous charge from the mains supply. The Simplicity 950 receives this charge irrespective of where the stair lift is positioned on the track. This means the stairlift can be parked on any section of the track when not in use.
The Simplicity 950 is also very easy to use. The stair lift is protected by a key switch, once switched on the toggle control is simple held in the direction of travel. The toggle can be placed on the left or right hand arm.
Choose from two great Sterling models – Sterling 950, and Sterling 950 Plus:
Sterling 950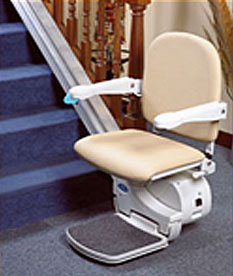 The Sterling 950 stairlift has been designed to be both easy on the eye and the purse. It's loaded with features and benefits usually found on lifts costing significantly more.
A large, comfortable swivel seat will transport you in comfort on your stairs and no matter where you park the lift, the constant charging feature means it is always ready for the next journey. The slim aluminum track takes up minimal room on the stairs leaving room for others.
Its clever design means we can install your 950 quickly. It won't take long before you're traveling your stairs with ease again.
Convenient and Easy to Use
• DC power with charging anywhere on the track – no more dead batteries!
• Unique Sterling control switch – ideal for users with limited dexterity
• Comfortable padded swivel seat with folding arms
• Diagnostic display for quick assessment and resolution of technical issues
• Two remote controls
• A seat that folds to 11 inches from the wall when not in use
• A track that only takes up 5 inches of the staircase
• An easy single handed control and large operation switch on the end of either arm rest
• Extra-long durable folding armrests that provide extra leverage when standing from the seat
• A standard key disconnect on the armrest to prevent "unauthorized use"
• A manual hinged or power sliding track segment available as an optional feature
Compact Design
• Slim aluminum rail takes up little room on stairs
• Only 11" from wall when folded
• Zero top track intrusion kit available
Safe
• 300lb max user weight
• Key lock prevents unauthorized use of lift
• Safety edges will stop the lift in the event of an obstruction
ASME 18.1 compliant
Sterling 950 Plus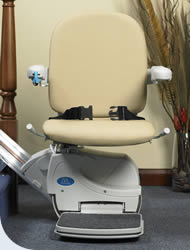 Like its sister model, the Sterling 950 Plus comes equipped with the unique "constant charging strip" track as well as the optional features and seat similar to the "100" model.
In addition this unit features: Optional Power Swivel, Optional Power Fold, Choice of Colors