We're the leading source for Summit Stairlifts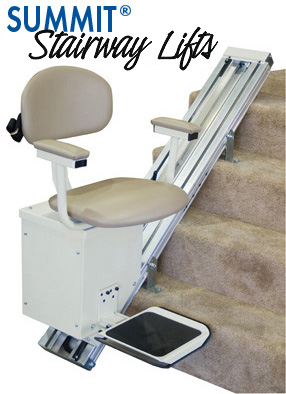 Summit Stairlifts can be self-installed! Or, our trained experts can do the work for you, quickly and affordably.
Safety
The need for secure support is paramount. It's why the armrests are extra rigid and why Summit seats swivel exactly as they do. It's also why our back rest is adjustable, and they use air-craft cable rated up to 4,200 lbs. on a drive system that has withstood the test of time for more than 50 years. Safety sensors do not allow the lift to run unless the seat is in the proper position.
Installation
Designed for fast, easy installation. The reason they are so easy to install is because the hard part is done at the factory. The carriage is pre-installed on a short section of track. Installation is not much more complex than connecting a length of track, attaching it to the stairs, bolting down the seat, and plugging it in. The installation instructions are clearly illustrated and very detailed, plus expert advice is never more than a phone call away.
Comfort and Convenience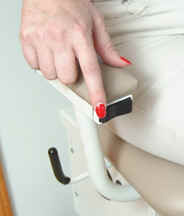 The backrest has three different settings, and the fold-up footrest adjusts to two different heights for the utmost in custom comfort. The seat swivels 90° towards the landing at both top and bottom to address bending, balancing and twisting issues when transitioning to and from the lift.
The spacious, wide seat features thick padding and attractive upholstery. The unit-control switch requires little manual dexterity to operate and is conveniently located at the end of the armrest.
Specs:
Capacity: 350 lbs. (one person) MAX: 500 lbs.
Electrical requirements: 115 VAC, 15 AMP minimum grounded circuit
UL and CUL listed components
Save Hundreds With Our 15 Minute Quote
Like a famous insurance company, we can give you a free and accurate stair lift price quote in 15 minutes or less. One of the secrets behind the success of StairLift NOW is the fact that our quotes are done in 15 minutes or less. Call to arrange your free quote 630-892-7267
Call 630-892-7267 – 365 days a year
For more information and to read comments from our clients please visit our sister site www.RampNOW.com
Two great Summit models to choose from: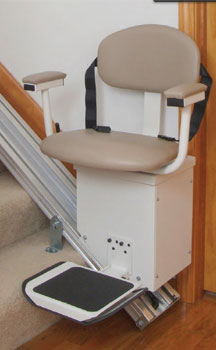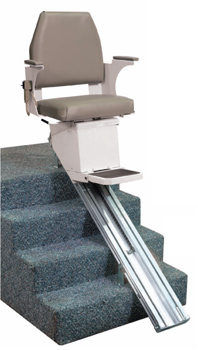 500 lb. Capacity, plus extra wide seat and reinforced footrest
NOTE: Summit Lifts designs all lifts to meet the stringent requirements of ASME A17.1, and ASME A18.1 when installed properly. Those wishing to acquire these products need to check with local authorities to assure local code compliance, installation requirements, and to determine if permits are required